| | | |
| --- | --- | --- |
| Left to right, MG VA, 1935 Austin Ruby, 1934 Austin Opal | A pair of Austin A35s | Austin A40 Devon, circa 1948 - not the one designed by Alec Issagonis ! |
| Ex-MOD Series 3 Land Rover and a Wartime Hillman -let us know if you know more details | 1958 Riley 1.5 litre | This MG and the 1959 Bentley S2 recently completed a run to Italy and back |
| left to right: 1935 Austin Ruby, 1960 Ford Thames 400E pickup, Land Rover Defender, Land Rover Series | Most of us can tell what these were when Ford first made them, though we're not too sure what they are now! | There's no mistaking this AC Cobra in such a discreet colour! |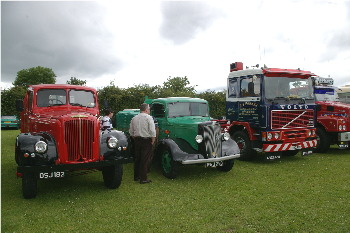 The 4x4, 1953 ex-army Morris MRAI tipper on the left cost £45 in 1955. It was reconditioned in 1998 after a long lay up.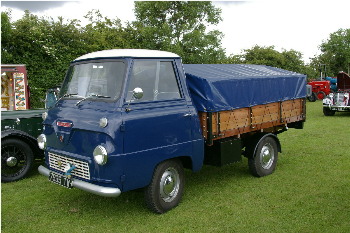 The owner of this 1960 Ford Thames 400E claims that he bought it on Ebay one night when he was drunk! It had been layed up in a barn for 35 years. It started on the second attempt after fitting a new battery and putting fuel in it. Restoration took 3 years, just in time for this year's event.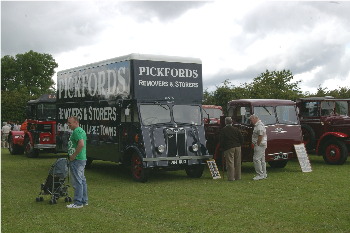 Both these vehicles were painstakingly and lovingly rebuilt from derelict wrecks by Paul Adams. On the left is a 1958 Guy Vixen box van which spent its working with Pickfords. It was rescued after 30 years in a Watford scrapyard.
Next to it is a 1955 Albion Claymore.

More of Paul Adams' fleet: next to the Guy vixen and Albion claymore is a 1932 Leyland Badger, once part of Paul's father's fleet of lorries, and a 1958 Leyland Octopus.