1913 Morris

1953 ex-WD, 4-wheel drive Morris tipper

1957 Rolls Royce-powered Dennis fire appliance

another ex-WD Morris lorry

Foden showman's tractor unit

1967 Scania Vabis 11 litre

A modern Volvo tractor unit dwarfs this
1959 Guy Arab LUF coach

four of Paul Adams' fleet

a row of four tractors
- Guess which one is the "Grey Fergy"?

1964 David Brown 880 tractor
Cars and Motorbikes

1933 Austin 12 HP Tourer

1935 Austin Ruby

1968 Morris 1000 van

1956(ish) Ford Popular

1947 Rover 12 saloon

1962 Rover P4.

Rover 2000 alongside a Morris Marina 1·3

1939 Austin 8 - thanks due to Paul Jenkins for identifying it for me.

Austin Metropolitan, circa 1954, made under licence from the American Nash Motor Corporation, and using some Austin components

Vauxhall Victor, circa 1960 - thanks to Martin Taylor for correcting me - I'd got it as a Velox

1962 Daimler Dart - this 125 m.p.h. model was used by the Metropolitan Police

1968 Jaguar Mark 3

Any info regarding this Rolls appreciated

1973(?) Triumph TR6

Ford Anglia circa 1965

Austin A50 circa 1955

three off-roaders

OK The wartime Willys was the first but ....

Land Rover is still the best 4 x 4 by far!

Commer motor caravan circa 1968

Norton 350 cc Navigator
- thanks to Mick Knowles the present owner
for identifying it!

I know it's a Triumph, but TELL ME!

Many believe that the Velocette was the greatest British bike ever.
>
I haven't a clue about bike but the hat's a deerstalker!
Inter-pub Tug-of-War contest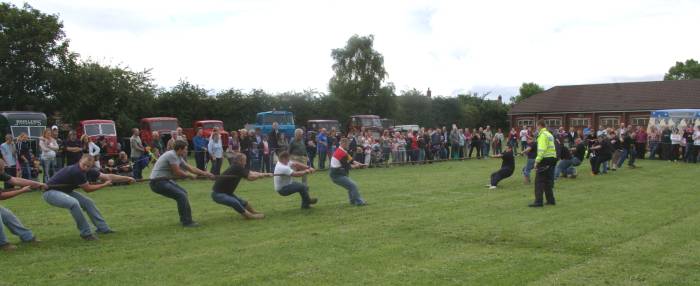 One of the high spots of the afternoon was the Inter-pub tug-of-war competition featuring teams from The Elms, Shareshill, The Red, white and Blue, Featherstone,Dog and Partridge, Calf Heath,and The Wheatsheaf, Laney Green.
To ensure fair play Simon Cain, our Police Community Support Officer acted as referee. Simon also helped by with parking control and mingled throughout the afternoon.
| | |
| --- | --- |
| Funny how you can tell what's going to happen... | ... just as someone starts to slip! |
Back to top of page